10 Must Have Christmas Albums 💿
Updated: Sep 15
Written by: Lucy Widmann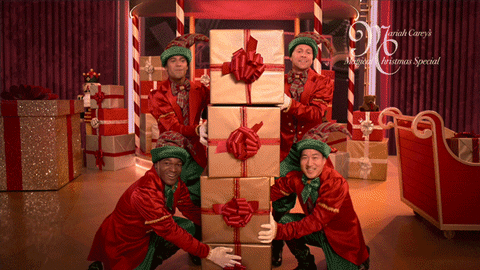 So maybe you are the type of person who HAS to wait for December 1st to start listening to Christmas music… Or possibly you're like us, where the day after Thanksgiving, Christmas music is playing everywhere! But no matter which category you fall into, we at With the Band believe we have a pretty good taste in what Christmas music reigns supreme over others. So to help you get into the spirit of Christmas time, here are our top 10 Christmas albums that you must listen to! 🎧
Mariah Carey - Merry Christmas
Yes, we are starting off with a classic that you probably already know about… Or at least have heard songs off of. But! What is Christmas time without a little Mariah Carey?! Most popular for her song "All I Want for Christmas Is You", this album contains all the essential Christmas songs! ❤️
Justin Bieber - Under The Mistletoe
Not to play favorites… but this might be a personal favorite here at With the Band! What's not to love about a little Justin Bieber Christmas music?! From the iconic rap verses in "Drummer Boy" to "Mistletoe", Justin Bieber's Christmas album is the perfect album to play during your Christmas party with friends! 🎉
Kacey Musgraves - The Kacey Musgraves Christmas Show
Not only did Kacey Musgraves release a Christmas album, but she also gave fans an entire Christmas show on Amazon Prime! A couple of our favorites that we think you need to know are "Glittery", "I'll Be Home For Christmas", and "Present Without A Bow". 🎀
Originally released in 2011, Christmas by Michael Bublé has been rereleased with many new songs over the year, adding new Christmas songs to make the holiday even more special! This is the perfect, chill Christmas album to play around the house, during dinner, in the car, or while opening up gifts on Christmas morning! Basically we are saying that this album is perfect for any occasion during the Christmas season! ❄️
Kelly Clarkson - When Christmas Comes Around…
What do you get when you take Kelly Clarkson and add Christmas to the mixture? You get the perfect Christmas album! Having a couple Christmas albums under her belt, Kelly is no newcomer when it comes to Christmas music. Did we also mention that this album features her most recent Christmas single with Ariana Grande, "Santa, Can't You Hear Me"! 💘
John Legend - A Legendary Christmas
Not only does John serenade us with his angelic voice, but he also invites some amazing other artists to assist with his Christmas album! Stevie Wonder, Kelly Clarkson, and Esperanza Spalding?! Let's just say that it's hard to top this Christmas album! 🥰
Tori Kelly - A Tori Kelly Christmas
This is a Christmas album that you DO NOT want to sleep on! From her voice to the upbeat vibe, this album instantly transports you into the Christmas spirits! Just in case you haven't listened, we recommend the songs "25th", "Let It Snow", and "Sleigh Ride". ☃️
Gwen Stefani - You Make It Feel Like Christmas
If you are ever feeling blue because of the cold, chilly, winter weather, this is the album to lift your spirits! Not only is every song vibrant with fun melodies, this album contains one of our favorite duets! Gwen Stefani and Blake Shelton share the song "You Make It Feel Like Christmas", and we could not be more obsessed! 💋
Pentatonix - Christmas Is Here!
With multiple Christmas albums under their belt, Pentatonix is known for their holiday tunes! With amazing harmonies and renditions of classic Christmas songs, the a cappella group has some amazing Christmas songs that you definitely want on your playlist this holiday season! 🎄
Okay we are throwing it back to one of the best Christmas albums (in our opinion)! Released in 1998, *NSYNC's album contains some hidden gems that are bops during the Christmas season. If you don't know where to start, here are a couple songs to get you listening: "Merry Christmas, Happy Holidays", "I Don't Want To Spend One More Christmas Without You", and "All I Want Is You (This Christmas)". 🤩
Okay we know that Christmas albums are great, but there are also some amazing Christmas songs that are just singles! Here are a couple we couldn't pass up sharing! 🤪
"Christmas Tree Farm" - Taylor Swift
"My Only Wish (This Year)" - Britney Spears
"Oh Santa! (ft. Ariana Grande & Jennifer Hudson) - Mariah Carey
"Santa Tell Me" - Ariana Grande
"Winter Wonderland/Here Comes Santa Claus" - Snoop Dog & Anna Kendrick
We hope that these Christmas albums/singles help you embrace the Christmas season! If you have a favorite Christmas album or single that we did not mention, let us know! 16 days until Christmas is here! 🤍
If you want to get more involved in fan communities,
join a Fan Crew or our awesome weekly newsletter!